Logistic and industrial solution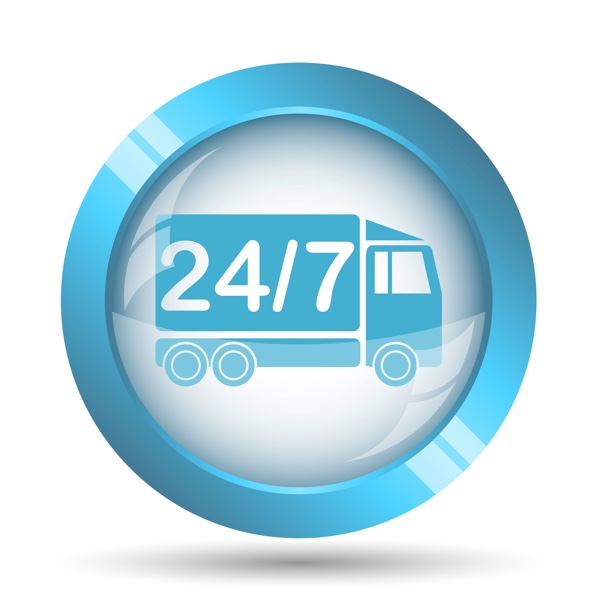 Use a complete solution to optimize flux and accesses into your logistic and industrial sites.
Confronted at a saturation problem on our logistics site, we had a difficulties to manage the loading and unloading of vehicles on our platform. Thanks to the innovative solution of easyPROG, we have obtained convincing results: optimization of vehicle flow, high productivity gain, safety of the site, reduction of disease problems. This solution is essential!

YD, STEF EFF Strasbourg
Our Access Management System is composed of hardware and software, specifically created for logistic and industrial sites, which work together to optimize control of inbound and outbound site traffic. AMS software features work together with existing management software.
Benefits
Functionality
Implementation
Partners
Documentation
Reduce on-site travel distance and decrease

waiting times

Avoid

misunderstandings

between truck drivers and site personnel
Optimize allocation of

bay assignments

to reduce waiting times and the mistakes
Enhance

quality of services

and shipments

Control freight

distribution throughout the loading process
Increase tracking and

security of site

entry and exits
Benefits to the

health* and well being

of on-site staff
Increase around 20% the

rentability

linked to the site activity
*Decrease of 80% of deseases problems for refrigerated or frozen sites
Set appointments with drivers using

shared calendar

linked to AMS
Welcome drivers in their own

language

at the touch terminal exclusively designed for the transport industry
In case of dysfunctions of network, the conception of AMS permit to

ensure the welcome

of visitors
Confirm

driver's identity

and contents of freight
Verification of manifest and

freight contents

Site access

granted or denied

(this process can be linked to the security system with a an activation or deactivation of visitor badges or security codes)

Dynamic Bay assignments

for loading and unloading operations
Access notification sent to drivers by

SMS

Tracking

on-site movement and notification sent to client upon freight departure (notification sent by SMS or email)
All statistical data available in

real-time

Access information from anywhere at anytime with your

mobile device
*Constructors and partners integrators : Til Technologies, Eryma, Prosegur, Automatic Alarm, ITQ Security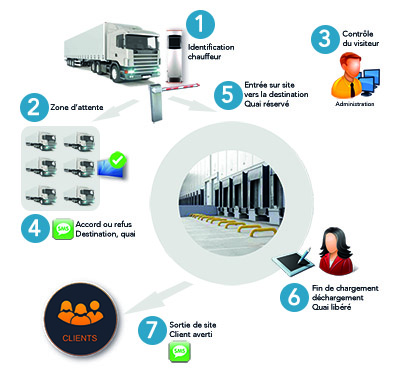 The solution can be

configurable and personnalisable

in function to the particularity of the site (graphics, sceneries of welcome, rules of manage, store of the differents datas)
Our team take the time to ensure the

good implementation

of the softwares and hardware into your site (at the beginning to ending of project)
The solution can be integrated at the actually elements of the information system

without a lot of infrastructure works*

We are creating all interfaces to permit data exchanges and the manage of informations issued from

another systems

(access control, TMS, WMS, weighing and invoices softwares, etc.)
*Excluding work related to the provision of electrical alimentation and the fixing of certain elements