Because a project is first and foremost based around your ideas and experience, easyPROG will provide you with a team of people to analyse, organise, and conceive the different information and actions in order to achieve your objectives.
If your objective is to be equipped with an IT solution that meets your needs in order to optimise one or more areas of your business, then ours is to accompany you throughout the whole project providing you with our skills and expertise. Regardless of your IT project and any associated constraints, we will always provide you with the correct array of solutions.
Advice and written specifications

The nomination of individuals and their roles

P

lanning and resources management

A communication plan (project management, training)

A risk assessment, taking into account budgetary constraints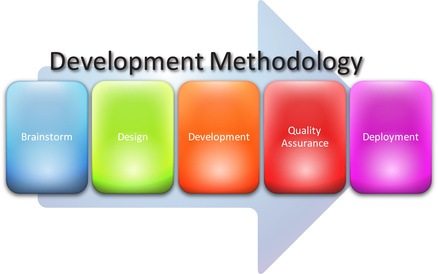 Read more...
Our methodology allows you to participate in the project from the early stages of analysis and during the development of your future IT solution. Result: the tool put in place corresponds precisely to your ideas with no surprises on delivery; it guarantees a quick start with profitability assured in the first few minutes of use. Following is a sample of our modus operandi :
A first meeting over the telephone or directly on site

The drafting of a preliminary project analysis

Meetings to discuss and improve the original analysis

Multiple quotes depending on available options

Once agreed, we conduct a detailed analysis module by module

During development, we make improvements and adjust the schedule as required

At each step, we send you screenshots or processing logs

The first operational version will be made available to you

We constantly adjust our source code during the testing phase

We deliver a final version with your approval and in accordance with the detailed analysis

We establish a training schedule once the first version is made available
More than 25 customers have trusted us.
100% of our clients have remained true to our methods.